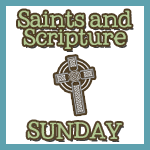 You shall love the Lord, your God, with all your heart, with all your soul, and with all your mind. This is the greatest and the first commandment. The second is like it: You shall love your neighbor as yourself.
- Matthew 22:37-39
Good words for World Mission Sunday. The perfect summary of the Law and prophets is the perfect message for a day like today, when we are reminded of the outward works of the Church. And a perfect reminder that "missions" aren't just the efforts of braver folks than me who go off to far away places in Asia and Africa.
While we were traveling earlier this month we visited the
St. Katharine Drexel Mission Center and National Shrine
. We do that a lot, plan trips to shrines into our trips. Or plan trips around shrines to visit. Have I mentioned we're nerds like that? :) Last time we were down we went to the
National Shrine of Our Lady of Czestochowa
in Doylestown, PA. Twice. It really is gorgeous. But we didn't get to see St. Katharine's shrine. So we fixed that.
And what a lady! Katharine Drexel was born into wealth and gave it all up for the religious life. Serious wealth. When he father died she and her two sisters inherited the interest on his estate - estimated at $1,000 a day. In 1885. Really serious wealth. She felt called to religious life and wanted to join a contemplative order but instead was asked to found a congregation to minister to Native and African Americans - the Sisters of the Blessed Sacrament. They established many ministries for the poor, most notably building schools and teaching.
We certainly aren't all blessed with the resources of Mother Katharine. We aren't all called to be missionaries in Africa or work in Cambodia with the Peace Corp; those are amazing people with amazing gifts and are few and far between. But we do all have the ability to treat others the way we wish to be treated. Our missions can be as close as our homes, bringing the love of God to our families and friends and remembering that all we have is a gift.
The active life to be productive must have contemplation. When it (contemplation) gets to a certain height it overflows to active life and gets help and strength from the heart of God. This is the way the saints produced so much fruit, and we're all called to be saints."
-St. Katharine Drexel